Consulting Center
Dear Clients of "UkrBorg", LLC! 
     Limited Liability Company "UkrBorg" hereby notifies you on opening of its new branch in Kiev on the territory of BC "SP Hall". The Branch has been established for the convenience of the Clients - companies, cooperating with the "UkrBorg", LLC, namely for the clients of such factoring companies as: "FC "Vector Plus" and "K-Kollekt".
     If you are the client of the abovementioned companies, and you have a pending question regarding settlement of the mortgage loan, then this news is exclusively for you!
     "UkrBorg", LLC is targeted at simplification of the mechanism for settlement of the troubled loan! For this very purpose, our friendly consultation centre opens its doors to all those wishing to settle the issue of indebtedness.
Our option:
Consultation on the Client`s credit file 

Professional legal assistance

Calculation of the risks and costs in the process of recovery

Optional programmes for settlement of the troubled loan

Debt restructuring

Discounting

Compensation

Sale of property
     Having visited the branch of the "UkrBorg", LLC in the BC «SP HALL», you will receive individual consultation and analysis of your credit file. Highly qualified specialists will familiarize you with the settlement programmes and will answer all your questions!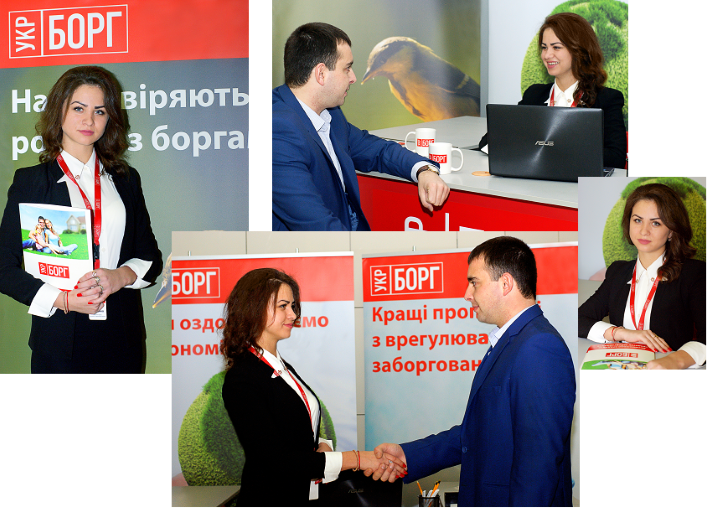 You may find us at the following address:
28A, S.Bandery Ave., Kiev
BC "SP Hall" 1st floor
You will enjoy a quiet atmosphere of constructive dialogue!
Business hours of the Consultation Centre:
From Monday to Fridays: 9:00 a.m. to 6:00 p.m.
Saturday and Sunday: day off